Powered for Patients and ASHE Publish Roadmap to Resiliency, an important White Paper Addressing the Role of Advanced Technology and Increased Collaboration in Safeguarding Emergency Power
As the final component of the Healthcare Leadership Initiative on Maintenance of Power, launched jointly by ASHE and Powered for Patients in 2016, the two organizations have published Roadmap to Resiliency, a white paper co-authored by Powered for Patients Project Director Eric Cote and ASHE's Senior Director for Advocacy, Jonathan Flannery.
The Healthcare Leadership Initiative on Maintenance of Power, and its white paper, Roadmap to Resiliency, would not have been possible without the generous support of initiative sponsors Eaton and Blue Pillar.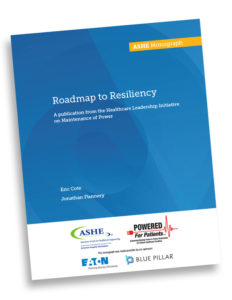 The White Paper details new protocols proposed by Powered for Patients to increase information sharing and collaboration among stakeholders involved in safeguarding emergency power and expediting power restoration for hospitals and other critical healthcare facilities. The new protocols involve hospitals providing an early warning to a designated government official any time emergency power is threatened during a disaster. This early warning will enable government officials to notify utilities of a threat to emergency power and accelerate information sharing up the government chain of command about the potential failure of emergency power. This enhanced situational awareness can provide an invaluable head start in enabling government officials to prepare for the potential loss of emergency power. It can also allow utilities to shift restoration priorities to help forestall a loss of hospital emergency power.
"I want to express deep gratitude to Eaton and Blue Pillar for making this important initiative and Roadmap to Resiliency possible," said Powered for Patients Project Director Eric Cote. "These industry leaders have enabled us to share valuable information about the role of new technologies in bolstering normal and emergency power for hospitals. They have also helped us start an important conversation about a new approach to information sharing between hospitals, government and utilities that can significantly enhance our ability to protect patients during a disaster."
For more information about the Healthcare Leadership Initiative on Maintenance of Power, please contact Powered for Patients Project Director Eric Cote at cote@poweredforpatients.org, 202-810-0125.
About ASHE:
With more than 11,000 members, ASHE is the largest association devoted to professionals who design, build, maintain, and operate hospitals and other health care facilities. ASHE members include health care facility managers, engineers, architects, designers, constructors, infection control specialists, and others. While our membership is diverse, ASHE members share a dedication to optimizing health care facilities and creating and maintaining safe healing environments. ASHE, a personal membership group of the American Hospital Association, is a trusted industry resource that provides education, regulatory guidance, networking, advocacy representation and professional development for our members. ASHE is committed to our members, the facilities they build and maintain, and the patients they serve. www.ashe.org
About Powered for Patients:
Formed in the aftermath of Hurricane Sandy, Powered for Patients is working closely with public health preparedness leaders, emergency managers, utilities, healthcare facility managers and power generation industry leaders to help safeguard backup power and expedite power restoration for critical healthcare facilities. Powered for Patients is also working with these and other stakeholders to help address the needs of at-risk citizens dependent on electric-powered medical equipment during prolonged power outages.
The success of Powered for Patients has come in large part from the initiative's ability to bring critical public and private sector stakeholders together for vitally important discussions and much needed collaboration. Funding for the initial Powered for Patients Stakeholder Meeting was provided by the Department of Health and Human Services, Office of the Assistant Secretary for Preparedness and Response (ASPR), through a cooperative agreement with the Association for State and Territorial Health Officials (ASTHO).  Current funding is provided through the Department of Homeland Security's State Homeland Security Grant Program and corporate sponsorships. www.poweredforpatients.org