Powered for Patients and Southeastern Health Release Lessons Learned Report from Emergency Power System Failures During Hurricane Matthew
Powered for Patients and Southeastern Health today released a joint Lessons Learned report on emergency power system failures experienced at Southeastern Health's hospital in Lumberton, North Carolina as a result of Hurricane Matthew in October 2016.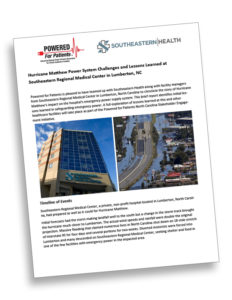 The report details the challenges faced by facility managers at Southeastern Regional Medical Center and the steps taken to protect patient health during a four-day power outage that saw two of the hospitals five generators fail and a temporary loss of all emergency power.
The report, including the timeline of events starting prior to Hurricane Matthew's landfall and concluding with restoration of utility power nearly 100 hours later, is available online.
"The staff at Southeastern Regional Medical Center faced serious challenges preserving emergency power in the hours and days following Hurricane Matthew's landfall but I'm very proud of the job our team did in protecting patient safety over the duration of the power outage," said Joseph Buri, the Director of Facility Services for Southeastern Health. "In publishing our initial lessons learned with Powered for Patients, we hope our experience can become a learning opportunity for facility managers at hospitals across North Carolina and throughout the country."
Powered for Patients, a federally funded 501c3 non-profit dedicated to safeguarding emergency power systems and expediting power restoration for critical healthcare facilities and related infrastructure, is developing a North Carolina Stakeholder Engagement Initiative to address lessons learned at all healthcare facilities impacted by Hurricane Matthew in North Carolina.
The Powered for Patients initiative will explore opportunities to increase stakeholder collaboration and information sharing in future disasters to increase situational awareness of emergency power system status for government officials and utilities. The initiative will also assess the impact of extended power outages on at-risk citizens relying on electric powered medical equipment in their homes.
The Lessons Learned Report released today details six lessons learned and includes recommendations on how to heed these lessons through stepped up planning, better communications systems and increased coordination between hospitals, government, utilities and generator service companies.
"Powered for Patients is grateful to the staff at Southeastern Health who shared invaluable information about their experience following Hurricane Matthew in safeguarding emergency power in order to protect patients in their care," said Eric Cote, Project Director for Powered for Patients. "We look forward to building on the initial work done in chronicling lessons learned at Southeastern Regional Medical Center by working with federal, state and local government officials and private sector stakeholders to assess all opportunities to improve coordination and information sharing relating to emergency power in future disasters."
Highlights of Lessons Learned in the report released today include:
Lesson # 1: Loss of Water and Wastewater Service Intensified Crisis – The extreme flooding triggered by Hurricane Matthew submerged city pump stations for municipal water and waste water treatment utilities serving Southeastern Regional Medical Center.
Lesson Learned: The emergency power capabilities for water and waste water utilities, and the vulnerability of these units from flooding, should be assessed by these utilities and the hospitals who depend on them so contingency plans can be developed to address a loss of either vital service.
Lesson # 2: Failure of Hard-to-Replace Spare Generator Part Crippled Generator for Two Weeks – The turbo charge component of Generator Unit # 1 failed hours after utility power was lost on October 8, 2016, despite having been tested the previous day.
Lesson Learned: Work with your generator service provider to identify critical spare parts for generators and have these parts either on site or with your generator service provider.
Lesson # 3: Hospital Impacted by Surge of At-Risk Citizens Dependent on Electric Powered Medical Devices – Citizens living near Southeastern Regional Medical Center who rely on electric-powered medical equipment surged to the hospital in the hours after the loss of utility power as the batteries on their medical equipment were drained. This placed an added burden on hospital personnel already working with reduced resources.
Lesson Learned: Greater coordination in meeting the needs of at-risk citizens relying on electric powered medical devices will enhance post-disaster support for these citizens. The HHS/ASPR emPOWER map is an important tool that can assist on this front. It is available at http://empowermap.phe.gov. In addition, greater efforts to encourage at-risk citizens to identify alternative means of backup power should be made.
Lesson # 4: Limited Backup Power Was Insufficient to Meet Critical Needs – The power outage for Southeastern Regional Medical Center lasted for approximately 100 hours. During this time frame, two of the hospital's five generators failed due to mechanical problems, seriously limiting available back up power for critical loads. Facility managers realized that not having a service elevator on emergency power presented serious challenges. Had Hurricane Matthew struck during August or September, the lack of air conditioning in the hospital would have become a serious problem, leading hospital facility managers to realize the importance of connecting some HVAC capacity to emergency power.
Lesson Learned: Increase emergency power capabilities to meet additional critical equipment and HVAC needs.
 Lesson # 5: Limited Communications Capabilities Hampered Ability to Communicate with Government and Community
 Lesson Learned: Hospitals should be equipped with at least two satellite phones that have internet connectivity. A mass notification system should be employed to enable better communication with hospital employees.
Lesson # 6: Lack of Timely Information About Road Closures Delayed Deployment of Emergency Power Service Team
Lesson Learned: Greater information sharing about road closures and stepped up coordination between hospital facility personnel, its generator service provider and emergency management officials could have enabled government personnel to assist the generator service provider in arriving at the hospital well before he was able to arrive on his own.