Power P.I.O.N.E.E.R.® is a powerful new situational awareness tool that provides real time, automated alerts when emergency power or HVAC is threatened in a facility equipped with P.I.O.N.E.E.R.'s advanced, remote monitoring technology. P.I.O.N.E.E.R stands for Power Information Needed to Expedite Emergency Response.
In addition to its automated alerts, P.I.O.N.E.E.R provides a secure, cyber-protected online dashboard where authorized users can view detailed information about unfolding mechanical threats, low fuel levels or dangerously rising temperatures in patient care areas. The highly detailed information available on the dashboard can help facility personnel and service providers diagnose mechanical problems remotely that may not be readily apparent based on a visual inspection of failing equipment. Real time Dashboard updates from response personnel keep officials in the chain of command apprised of response efforts and help inform resource deployment decision making.
Early warning of a threat to emergency power and dangerously rising temperatures in patient care facilities would allow government agencies to quickly engage with impacted facilities and their service providers to help address any impediments to rapid response by service personnel. This early warning will also enable expedited deployment of government generators and when possible, accelerated power restoration. The early warning provided by P.I.O.N.E.E.R also provides a valuable head start in any evacuation planning that may be needed.
The loss of emergency power in a single-generator hospital or skilled nursing facility treating patients depending on ventilators during a power outage would represent a life-threatening emergency. In such a scenario, staff would have only a few hours of battery life before they would need to manually ventilate patients during the race to replace a failed generator or transfer patients to another facility.
Initial P.I.O.N.E.E.R deployments took place in August 2021 in three Los Angeles County hospitals, two of which are single-generator hospitals. The deployments were made possible with HHS Hospital Preparedness Program funding.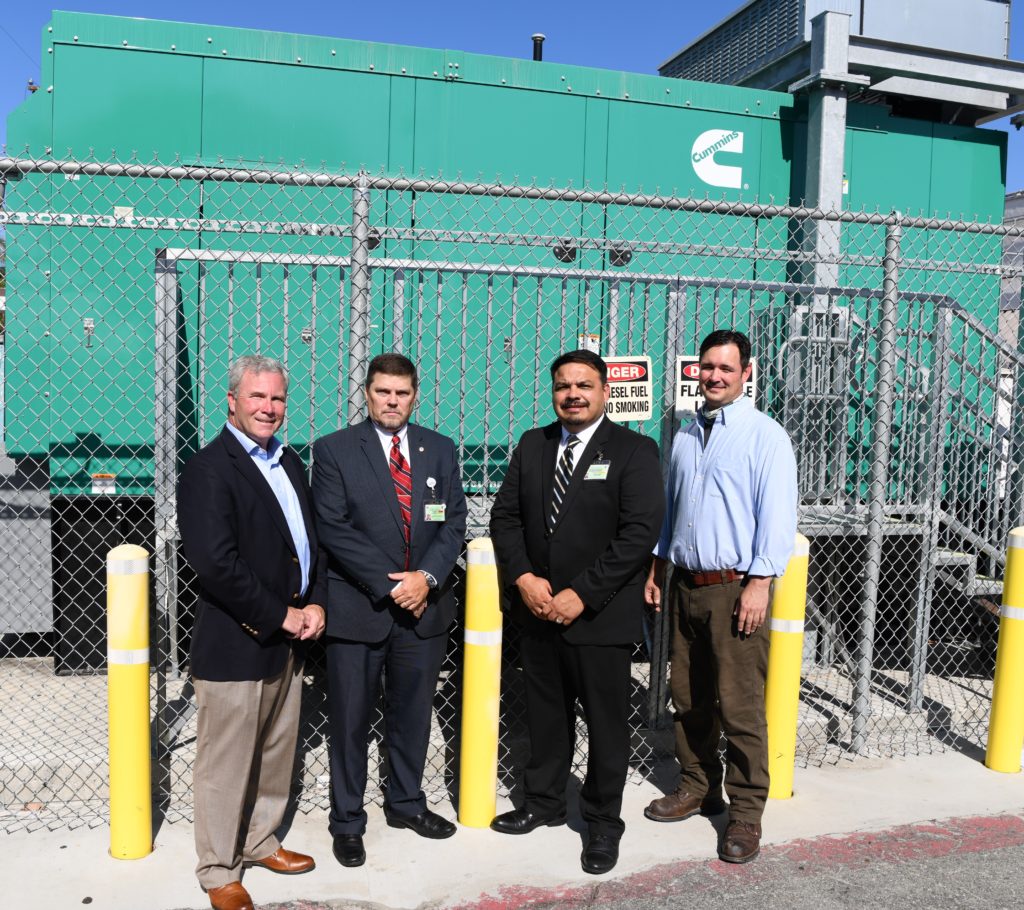 The History of Power P.I.O.N.E.E.R.
In October 2018, the Department of Homeland Security provided a Security and Resilience Challenge grant to Powered for Patients to develop a prototype that would ingest and synthesize real time generator threat reports from multiple monitoring systems deployed in hospitals across the country. The goal was to create a prototype that would provide government officials with a singular view of real time, unfolding threats to emergency power during power outages to enable accelerated government response to impacted hospitals. Powered for Patients worked with three leading providers of generator monitoring technology to build the prototype, including Automated Logic, a subsidiary of Carrier Corporation; Blue Pillar and Schneider Electric. The prototype was completed in November 2019.
As the COVID-19 pandemic worsened, and the number of ventilators needed to treat the sickest COVID-19 patients rapidly increased, Powered for Patients sounded the alarm about the need for increased vigilance of emergency power systems in the estimated 700 plus single generator acute care hospitals across the U.S. With no redundant emergency power, patients in these single generator facilities, especially those on life support equipment, face greater risk should the facility lose emergency power during an outage.
Rapid completion of the DHS prototype to enable its deployment to single generator hospitals was not feasible. Instead, Powered for Patients teamed up with Blue Pillar to quickly develop and deploy the Power P.I.O.N.E.E.R. Tool that was recently installed in three Los Angeles County hospitals.