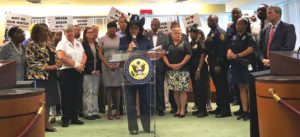 On September 19th, Powered for Patients Project Director Eric Cote was invited to join U.S. Representative Frederica Wilson (FL-27) at a Town Hall meeting in North Miami, FL where the Congresswoman addressed the tragic deaths that occurred earlier that week at the Hollywood Hills Rehabilitation Center. The heat-related deaths of more than a dozen elderly residents resulted from the loss of power to the facilities' air conditioning system which was not connected to emergency power.
The Congresswoman announced the formation of a Task Force to ensure that a similar tragedy would never occur again. At her Town Hall meeting, the Congresswoman asked Cote to speak about the work of Powered for Patients how it could help advance the mission of the Congresswoman's newly formed task force.
As part of her continuing work to address the nursing home deaths, Congresswoman Wilson will be hosting a field hearing in North Miami of the House Transportation and Infrastructure Subcommittee on Economic Development, Public Buildings and Emergency Management on Thursday, October 19th. This Congressional subcommittee has oversight responsibility for FEMA. The Congresswoman has asked Powered for Patients to provide testimony for this hearing.