Rhode Island Emergency Management Agency Stakeholder Engagement Initiative Advances New Protocols to Help Strengthen Emergency Power for Rhode Island's Critical Healthcare Facilities
The DHS-funded Stakeholder Engagement Initiative launched by the Rhode Island Emergency Management Agency (RIEMA) and Powered for Patients in October 2015 is completed and will help set the stage for similar initiatives in other states. Key state stakeholders involved in the project have included the Rhode Island Department of Health; the Rhode Island Office of Energy Resources; National Grid, the state's primary electric utility; and the Hospital Association of Rhode Island. Several federal agencies have been active participants including FEMA, DHS, and HHS.
After more than a year of stakeholder meetings, emergency power system vulnerability assessments and strategic planning, a key outcome of the initiative is the comprehensive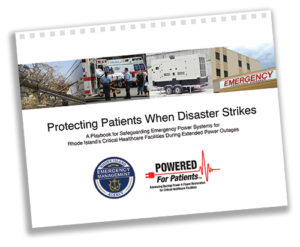 Playbook, entitled Protecting Patients When Disaster Strikes.
The Playbook details the key responsibilities of stakeholders across a four-phase planning and operational continuum to safeguard emergency power systems and expedite power restoration.
The Playbook also introduces new protocols to provide an early warning to state officials when hospital generator power is threatened during a disaster. These new protocols are expected to become a national model for enhancing situational awareness of emergency power system status during disasters.