In addition to direction from its Board of Directors, Powered for Patients is guided by National Advisors who bring a range of expertise that spans public health preparedness, emergency management, cyber security and critical infrastructure protection.
Powered for Patients is proud to have the support of Paul N. Stockton, Ph.D., National Advisor for Cybersecurity and Infrastructure Resilience. He is a highly respected former senior federal official with tremendous experience in preparing for and responding to major natural disasters.
---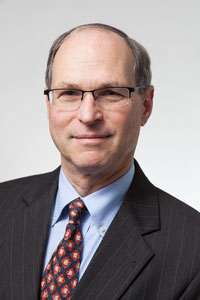 Paul N. Stockton, Ph.D., National Advisor for Cybersecurity and Infrastructure Resilience
As Powered for Patients' National Advisor for Cybersecurity and Infrastructure Resilience, Dr. Paul Stockton will help lead Powered for Patients activities in the area of infrastructure vulnerability assessment and development of action plans to strengthen critical infrastructure. Dr. Stockton will also support Powered for Patients as the organization expands its focus to address vulnerabilities in critical infrastructure sectors upon which healthcare facilities are heavily dependent. While safeguarding backup power and expediting power restoration for critical healthcare facilities is the core focus for Powered for Patients, the initiative also intends to address backup power reliability and prioritized restoration for water systems and wastewater treatment plants. A hospital or other critical healthcare facility with a properly functioning backup power system could still be rendered inoperable if access to water and wastewater treatment is lost.
In addition to his role with Powered for Patients, Dr. Stockton is also the Managing Director of Sonecon LLC, a firm that provides economic advisory, security and risk-management services to international and national clients. Before joining Sonecon, Dr. Stockton served as the Assistant Secretary of Defense for Homeland Defense and Americas' Security Affairs from May 2009 until January 2013. In that position, Dr. Stockton was responsible for the Defense Critical Infrastructure Program to strengthen resilience of DOD facilities and functions against all hazards. Dr. Stockton created the Department's first-ever Mission Assurance Strategy to help guide and prioritize DOD resilience initiatives. He led the Defense Department's continuity of operations policies, planning and exercises, and launched initiatives with the private sector, the Department of Energy, and the Department of Homeland Security to help ensure the availability of energy to DOD installations.
Dr. Stockton was twice awarded the Department of Defense Medal for Distinguished Public Service, DOD's highest civilian award. The Department of Homeland Security awarded Dr. Stockton its Distinguished Public Service Medal. Dr. Stockton holds a Ph.D. from Harvard University and a BA from Dartmouth College.